Business and Networking Fair inside UN buffer zone brings communities together
On 24 June, the United Nations Peacekeeping Force in Cyprus organized a Business and Networking Fair inside the UN buffer zone in Nicosia. 
More than 200 people from all communities of Cyprus attended an evening of networking and conversations with businesses and entrepreneurship organisations from across the island where they had an opportunity to participate in panel discussions on how to bring communities together using innovation, technology and social entrepreneurship, on trade and business collaboration between communities and how to establish intercommunal businesses and organizations, visit business stalls and build new relationships and collaborations.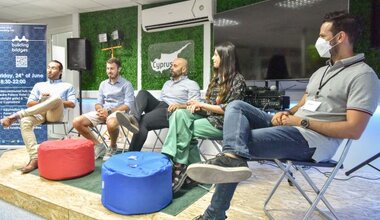 Nicolas Kyriakides, Vice-president of the Board of Oxygono stated: "I hope it's a beginning of a series of similar activities. It was an opportunity to discuss practical business matters with members of the other community. Trade can lead the peace." 
The Special Representative of the Secretary-General in Cyprus, Colin Stewart, attended the first round table discussion with 25 participants from organizations across the island, where they discussed opportunities for economic cooperation and partnerships between the communities.
Podcaster Meltem Burak, who visited the fair said: "It was a great opportunity to meet creative people working in many different sectors. Throughout the panels, I could enhance my knowledge on social innovation, science diplomacy and cultural entrepreneurship. I will certainly use my newly acquired knowledge in the design of my future podcasts. Overall, the networking event was a great chance to broaden my horizons in a relaxed and friendly atmosphere." 
This event was co-organised by UNFICYP, Cyprus Peace and Dialogue Centre, CyprusInno, the Center for Social Innovation and International Communities Organization. Supporting and participating organizations included the Association of Shopkeepers and Artisans, JCI Larnaca, Oxygono, the British Council, StartUp Grind Cyprus, Information Centres of Youth Board of Cyprus, CYENS, Cyprus Youth Council, TCCC Women's entrepreneurship council, Famagusta Youth Union, Nicosia Youth Union, Young Businessmen Association (GİAD), Trade GreenLine, Cyprus Bilingualism Association, Cyprus Entrepreneurship Station, as well as the EU-funded projects Innovative Entrepreneurship and EU Infopoint. Ten businesses from across the island also participated with their stands.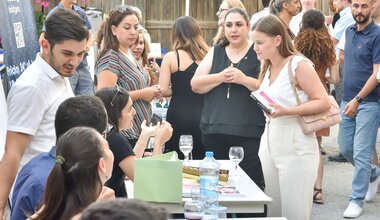 Derya Tangul, who is the Public Space and Information Officer of EU Infopoint, one of the partner organisations, concluded: "The intercommunal Business and Networking Fair was a great event to be part of and we have had the opportunity to meet and network with new people from different regions of the island. We hope for the continuation of such intercommunal activities to support the reunification process." 
The Association of Bi-lingualism in Cyprus provided language assistance in Greek and Turkish to support communication among participants.