Abandoned dog learns how to "woof again" after being rescued by UNPOL from the UN buffer zone
Meet OP, a Rottweiler sadly abandoned by his owner in the UN buffer zone. The mistreated dog was left to fend for himself in the grounds of an abandoned factory in Derynia, on the eastern side of the island.  
OP had lost hope of seeing better days until he was found by two UNPOL officers on patrol, Giulia Dorella, from Italy and Brian Quirke, from Ireland.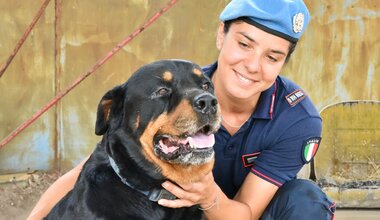 UN Police Officer Dorella recalls finding OP cowering in a dark corner of the factory: "He looked so scared and lonely, he had given up hope. He captured my heart as soon as I saw him, so I took him to the vet". The dog was malnourished, and his legs covered in wounds. After a trip to the vet where he received medical checks and treatment he is now on the mend and has been taken under the wing of Giulia herself, who decided to name him OP, as he was found at one of the UN observation posts. 
OP remains in the place where he was discovered, and our UNPOL officers based in Derynia are regularly feeding him and spending time with their new mascot. 
UNPOL Officer Dorella said "Sadly finding abandoned pets and working dogs in the buffer zone happens far too often, particularly at the end of each hunting season. Dogs are for life not just for the hunting season." 
Hunting, training dogs or abandoning animals inside the buffer zone are strictly forbidden and poses a serious security risk.
OP has recovered and is happy, healthy and "woofing" again. Nevertheless, he is looking for a new forever home where he can be loved every day with all the care and attention he deserves. 
If you are looking for a new best friend, OP can be reached via UNFICYP social media channels or email: unficyp-public-information-office@un.org