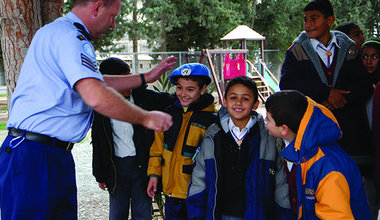 The Civil Affairs Section of UNFICYP was established in 1998 to reflect the increasingly civilian nature of the issues confronting the mission. With a military status quo, a longstanding ceasefire and the establishment of a UN-controlled Buffer Zone between the opposing forces, normal civilian activities resumed throughout the island and, in recent years, increasingly in the buffer zone.
The roots of the civil affairs function of UNFICYP can be traced back to the original mandate authorized by Security Council Resolution 186 (1964), in particular, the provision that the Force contribute to "a return to normal conditions" on the island. After the events of 1974 and the resulting displacement of large numbers of the population, UNFICYP was mandated to provide humanitarian assistance to the population all across the island (Security Council Resolutions 359 and 365 and General Assembly Resolution 3212, all of 1974).
Function
Since 1998, the structure and functions of the section have grown and evolved considerably into three main areas of activity: civil, humanitarian and community relations.
Civil
 Day-to-day interlocutor with authorities on both sides on issues affecting civilian population
 Interface of the mission with local civilian authorities
 Manages civilian use of the buffer zone for agriculture and some housing and commercial uses
Humanitarian
 Provides assistance to Turkish Cypriots in south and Greek Cypriots and Maronites in north
 Delivers humanitarian supplies and ensures social welfare, educational, medical needs are being met
Community relations
 Encourages inter-communal dialogue for the purpose of confidence building and trust
 Promotes preservation of common cultural heritage
 Facilitates technical level cooperation
 Facilitates access to religious sites on both sides (upon formal request of organisers)
Where possible, UNFICYP facilitates civilian use of the buffer zone for peaceful purposes, such as agricultural work, maintenance of public utilities and communications, and the construction of commercial and residential buildings. This management of the buffer zone for civilian purposes is performed by Sector Civilian Activity Integrated Office (SCAIO) through a buffer zone permit system. Over the years, Civil Affairs has concluded practical arrangements for what are called Civil Use Areas in parts of the buffer zone to allow for normal civilian life and activity.
In addition, Civil Affairs is responsible for the facilitation of activities that promote harmony and trust building between the two communities. These inter-communal activities include support for the preservation of common cultural heritage, promotion of inter-communal dialogue through cultural, sporting and other events, and facilitation of essential services for both communities through cooperation at the technical level.
Today, the Civil Affairs Section is an integrated component, headed by a civilian Chief of Civil Affairs and comprising 13 civilians, assisted by 5 UNPOL members and 2 military members in HQ. In addition, 6 UNPOL, 6 Military and 3 CAS civilians are based in Sector Offices (SCAIO) to maintain close relations with civilian clients and local community leaders. Military Liaison Officers in the sectors also provide a valuable civil affairs support function.