UNFICYP marks International Day of UN Peacekeepers
Every year, the UN marks the International Day of Peacekeepers, when we pay tribute to all the men and women who have served either as military, police or civilians and continue to serve in UN Peacekeeping operations for their high level of professionalism, dedication and courage. We also honour the memory of those who have lost their lives in the cause of peace.
This year, UNFICYP's Force Commander, Major General Ingrid Gjerde, together with UNPOL Senior Police Advisor, Assistant Police Comissioner Satu Koivu, UNFICYP' Senior Advisor, Aderemi Adekoya, and Chief Mission Support, Joel Cohen, led the annual commemoration of the International Day of Peacekeepers at the UN Protected Area in Nicosia.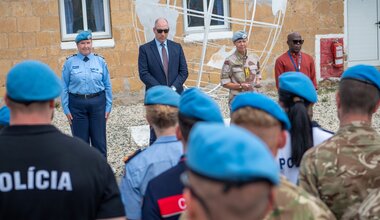 Speaking at the event, Major General Gjerde said: "United Nations peacekeepers are the beating heart of our commitment to a more peaceful world. For 75 years, they have supported people and communities rocked by conflict and upheaval across the globe. Today, we honour their extraordinary contributions to international peace and security."
For 75 years, UN peacekeeping has made a tangible difference to the lives of millions of people caught up in catastrophic conflict. More than two million uniformed and civilian personnel have contributed to this global effort to achieve peace and progress for all peoples.
Currently, more than 87,000 peacekeepers from 125 countries serve in 12 operations. They face rising global tensions and divides, stagnating peace processes, and more complex conflicts. In Cyprus, about 800 troops serve on a rotating basis. The largest troop contributors are Argentina, the United Kingdom, and Slovakia. Over the years, more than 150,000 troops have served in UNFICYP. The UNPOL component is comprised of 69 police officers from sixteen countries and its member are generally deployed for 12-month periods.
Today, we thank our peacekeepers, past and present, for their service and sacrifice, and pay tribute to colleagues who have paid the ultimate price by giving their life for the cause of peace.