UNFICYP hosts peacekeeper skills competition
United Nations peace operations work around the world to promote and maintain peace and security, despite facing innumerable challenges while delivering its mandate. In Cyprus, to ensure that peacekeepers remain agile, fit for purpose and ready to deploy at short notice, UNFICYP organizes regular military skills competition every year.
In addition to military teams from Sectors 1, 2, and 4, the Mission's Mobile Force Reserve and the Force Protection Unit also took part in the challenge and for the first time, a team of UNPOL members also participated. More than 70 peacekeepers from Argentina, Austria, Brazil, Bosnia and Herzegovina, Chile, Ireland, Norway, Paraguay, Slovakia, Serbia, Romania, and UK concluded the summer competition.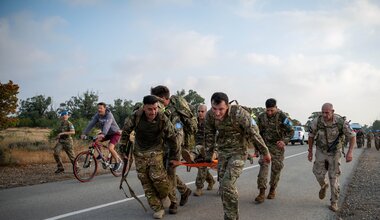 It is the biggest event within the Mission's training calendar and allows peacekeepers to compete over several mission-relevant stands within a spirit of cooperation and teamwork. The teams participated in different skills, including endurance run, emergency response and assault course.
At the end of the competition, the Mission's Force Commander, Major General Ingrid Gjerde, awarded the Mission's Force Protection Unit for winning the competition and thanked all peacekeepers for their commitment in serving for peace on the island. 
For Major Gjerde, "the aim of the competition is to motivate and improve professional competencies and skills. Furthermore, the competition helps to build a strong UNFICYP team. Both police and military know very well cohesion and friendship is vital to succeed in preventing and solving conflict. For this reason, it is great to have UNPOL on board with a team, which shows how much we are working towards having a successful fully integrated mission."